Products & Solutions
Electronic Advertising System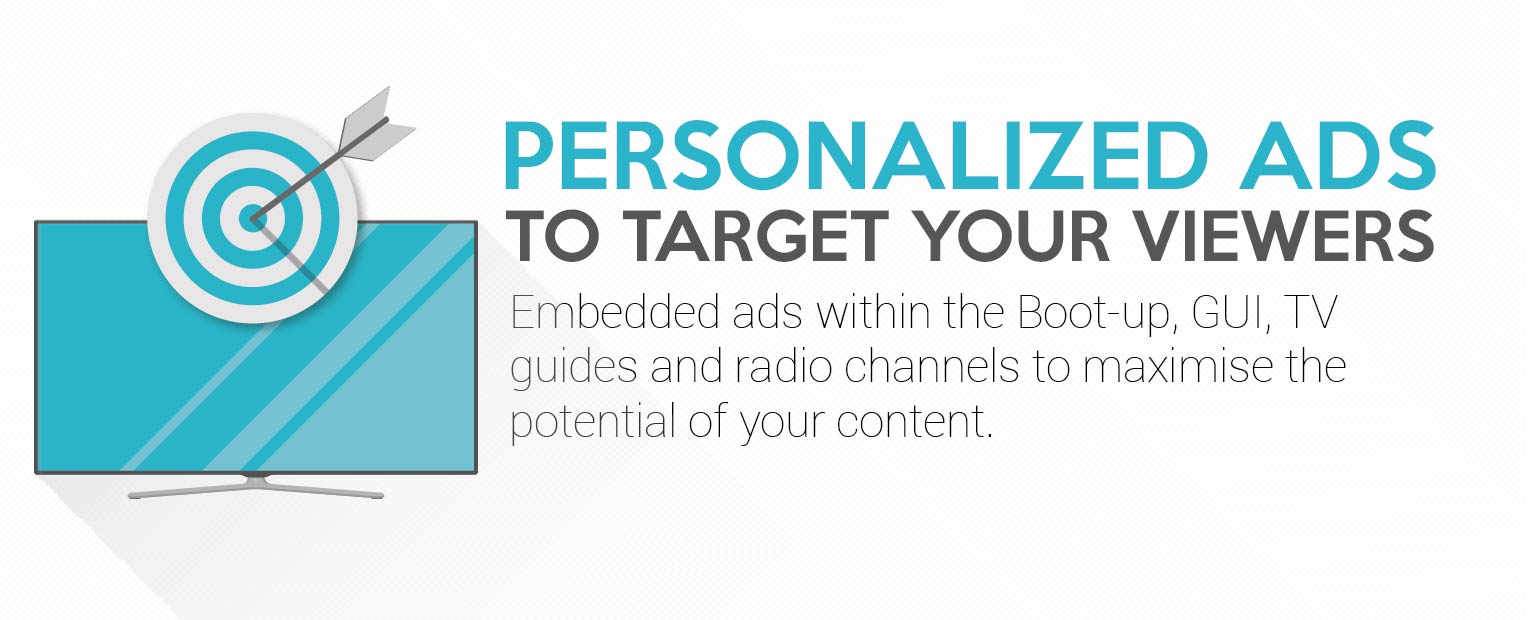 The ABV International's Electronic Advertisement System (EAD) supports various forms of Advertisements that can be integrated into the STB GUI seamlessly. It allows operators to bring an extremely high exposure of revenue from advertisements to the end-users without interrupting their viewing experience.
ABV EAD supports different types of Ads, including:

Boot-up Ads: Provides customized and changeable "boot up logos". Every time the STB is restarted, advertising will show up while the system is loading.
This same function can be also integrated into the Radio Channels which only have audio content.

With the addition of Service Advertisement, Operators can show banners with embedded Ads. The system can be totally customized depending on the audience of each channel and the needs of the operators.
The Service Advertisement system is also available for the Channel List or the Volume bar which increases the impression rate of each Advertisement.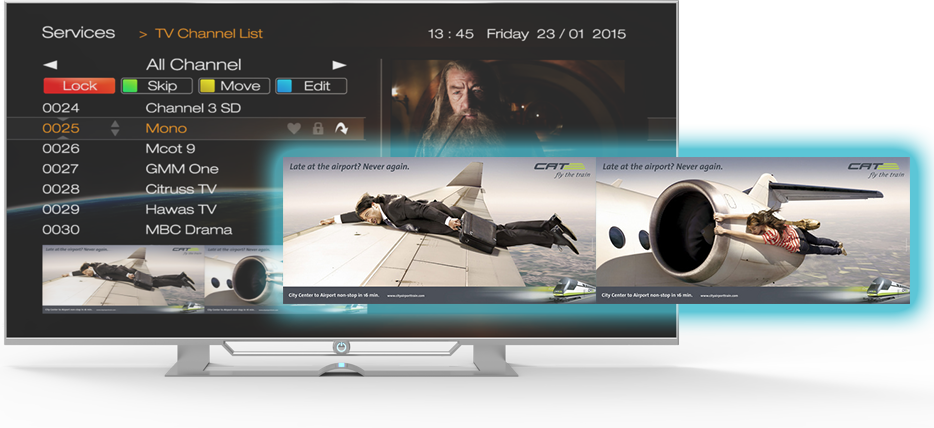 Another option is the display of Ads on the EPG Menu, ABV International's EAD can be integrated into the operator's system regardless of the layout.
The options mentioned above are the most admired and prevalent among our clients. Nevertheless we understand that every operator has a unique requirement and that is the reason ABV focuses on offering a system that is completely customizable.
The formats of Ads supported by ABV International's EAD are:
Text – Customized fonts, color, transparency settings
Picture – Format as per project design
Video – Format as per project design

ABV International also provides a strong management & distribution system to manage the raw materials, Advertisement libraries, schedule, time slot, channels, etc.
Advertisement can be distributed to a certain channels at a certain times in order to successfully reach the targeted audience.
Channel management: To identify a unique channel with a transport stream ID, network ID and service ID
Time slot management: define a time period with alias and use the alias conveniently when making a schedule.
Material & Ad library: Create & edit different types of Ads.
Scheduling: make a schedule list with the Ads in the Ad library. Map them to a certain channel at a certain time slot.
Note: The Advertisement type and format the STB can support depends on the STB chip-set, flash and memory configuration.
Doubts about which ABV International product is best for you? We're ready to help.
We recommend that you send us an email using our email form. You could also reach us at:
Singapore: +65-6592-0051          India: +91-406-646-1155
China: +86-10-6297-3686